If I had a dollar for the amount of emails I've received asking this over the years… "Which Hosting Company Should I Use For WordPress?" I would have a lot of dollars.
My answer has changed as companies and their quality of service and support has changed. As such, I often update the resources page to reflect my current recommendation for a variety of things for future reference. But one company has stuck around, and remained at the top of the game, and this list. Today, I'm going to make it super easy for you.
Right now in 2019, with WordPress where it's at, and hosting what it is, and having used many different services myself, I would 100% go with WP Engine.
Sign up for a WP Engine plan and receive the Genesis Framework and 35+ StudioPress Themes free!
Not only do they offer fantastic WordPress focused hosting, their support is far superior than any of their competitors. It's not even close.
As someone who has had websites for 15 years now, I can tell you good support is just as important as good hosting.
WP Engine recently acquired my second favorite hosting company, Flywheel.
As many of you also know, WP Engine acquired StudioPress last year as well. They are all about WordPress, they know their stuff.
A lot, A LOT, of hosting companies have support people who still have no idea how WordPress works, which means I often receive support tickets like this "My hosting company said something is wrong with my theme and that's why this or that is happening." – 9 times out of 10 it's a plugin related issue. The other 1 times it's server related, or WordPress install related and their support just has no idea what they're talking about.
[bctt tweet="Get you a hosting company that KNOWS WordPress y'all, I can't stress it enough. You wouldn't go to a podiatrist for a head injury." username="lindseyriel"]
Get 2 of My Themes Free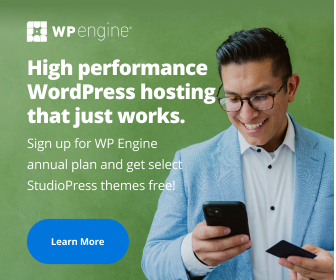 Did I mention you can get a couple of MY themes free with your hosting plan there? Pretty Creative and Pretty Chic are part of the package when you purchase hosting through WP Engine.
But, what about cost?
I understand cost is a major factor in choosing a hosting company, and that there are many very low priced options out there. In my opinion, it's not worth the headache of having to eventually switch to a better host in the future. Issues like servers being attacked, inept support, hours lost troubleshooting obvious issues to someone familiar with a WordPress site.. That said, if YOU are familiar with WordPress enough to understand how it functions and able to troubleshoot your own issues, a lower cost option may work for you. There are a couple on my resources page here if you're interested.
Alrighty, I think that about sums it up. If you have any questions about choosing a hosting plan that works for you, please feel free to leave them in the comments below. I'm happy to help answer them or point you in the right direction.
I am a member of WP Engine's affiliate program, and you should be too. I take referring people very seriously, and only recommend companies that I know aren't going to cause people to come back angry with me for it 🙂